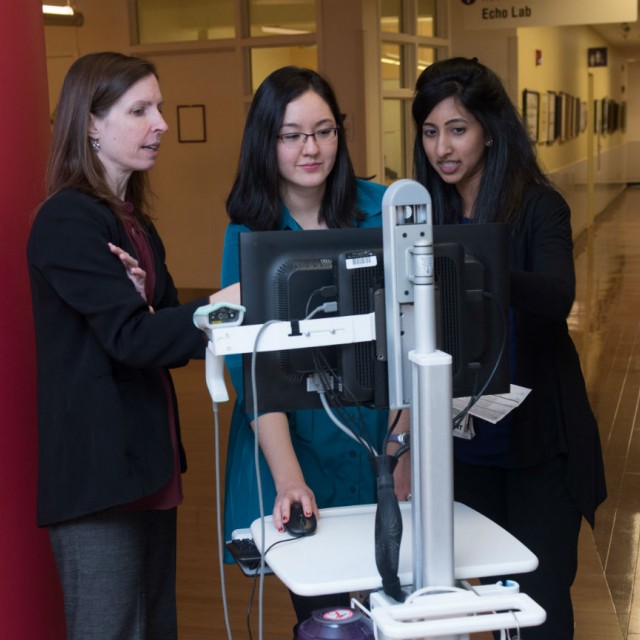 Pediatric Hospital Medicine
Our Section Mission:
The Section of Pediatric Hospital Medicine is dedicated to providing high quality, family-centered care to pediatric patients admitted to the UChicago Medicine pediatric inpatient sites. We are staffed by pediatric hospitalists who have expertise and experience in the care of hospitalized infants, children and young adults, whether at birth or during an acute illness. Our physicians devote their time to building collaborative relationships with patients and families, while offering evidence-based clinical care in a compassionate manner. In addition we are dedicated to advancing the field of PHM through quality, education and clinical research.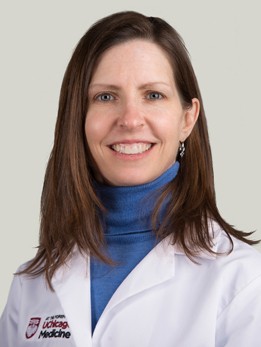 Clinical Services
The Comer Pediatric Hospital Medicine Service provides clinical care to all children admitted who do not require intensive care services, and who are not on surgical or subspecialty services. The PHM Service is staffed by pediatric hospitalists who are experienced at treating pediatric diseases ranging from the most common to the most complex.  Our multidisciplinary team includes pediatric nurses, pharmacists, social workers, and case managers, all of whom work together to provide high quality care and address the physical, emotional, and social needs of our patients.  We also work closely with subspecialists who are leaders in their respective fields, including pediatric pulmonology, infectious disease, endocrinology, surgery, orthopedics, and psychiatry, to name a few.
The Mother-Baby Unit (MBU) offers exceptional care for all healthy newborns born at the University of Chicago Medicine. The unit is staffed by highly-trained, compassionate pediatricians with around-the-clock support from neonatologists and neonatal nurse practitioners with a goal of providing the best, family-centered newborn care. The MBU has a full complement of certified lactation consultants, nurses, car seat technicians, social workers, and ancillary staff to give newborns and their families a head start on their new journey together. The University of Chicago Medicine is a Baby Friendly-certified institution providing a warm and supportive environment for breastfeeding mothers and babies. Our goal is to partner with and engage families, providing them with the most up-to-date information on newborn health and wellness. 
Pediatric hospitalists from the University of Chicago provide 24-hour care for children at Riverside Medical Center located in Kankakee, Illinois. Riverside is the area's only Magnet recognized hospital and is focused on providing exceptional clinical care to pediatric patients. PHM providers attend high risk deliveries, care for patients in the newborn nursery and pediatric unit, and provide consultative services to patients in the emergency room and adolescent mental health unit. Our experienced hospitalists work with highly skilled nurses and ancillary staff to provide the highest quality care to pediatric patients close to home.
University of Chicago pediatric hospitalists provide complex care to children at La Rabida Children's Hospital.  La Rabida is a post-acute care facility focused on children with medical complexity and those requiring rehabilitation after an injury or severe illness. Our multidisciplinary team includes pediatric hospitalists, nurses, respiratory, speech, physical and occupational therapists, dietitians, social workers, and subspecialty pediatricians. La Rabida providers optimize the medical management of patients while providing education, training, and support for caregivers as they learn the specialized care their children will need at home. The pediatric hospitalist as part of the specialized medical team provides a comprehensive approach to treatment and education, preparing patients and their caregivers to provide care safely and confidently at home.
UChicago Medicine Advent Health Hinsdale
 
The University of Chicago Pediatric Hospitalist team is proud to partner with the faculty and community physicians at Hinsdale, DuPage County's sole teaching hospital. PHM physicians are on-site 24-7, providing care to patients in the newborn nursery, pediatric unit, and consultations in the Emergency Room. PHM providers accept transfers from the regional UChicago AdventHealth system, keeping patients as close to home and family as possible. Our team works closely with skilled nurses and family medicine residents to ensure high value, evidence-based, and patient/family-centered care.
Special Programs
Safe Kids South Chicagoland helps protect the children of Illinois by providing safety education on a variety of topics to the community at large. Our program partners with local community organizations, including local police and fire departments, to create programs and provide services to educate children and their families about preventable injuries. Safe Kids South Chicagoland hosts bike helmet giveaways, car seat education clinics, and provides classroom education to community organizations on topics such as sports injury prevention, cyberbullying prevention, summer safety, and home safety (and more). We also serve local communities through festivals and health fairs.
Child Passenger Safety Technicians are on staff to help our patients and families get home safely. Our car seat specialists can answer car seat related questions, provide hands-on training to caregivers, and can help medical staff come up with safe transportation for any patients with medical conditions affecting travel or positioning.
Our Certified Child Passenger Safety Technicians can assist with transporting your children safely, in any vehicle. Whether it's a quick question regarding the Illinois seatbelt law to needing hands-on assistance to make sure your car seat is installed correctly, we're here to help.